Ideas and Tips on How to Start Fundraising
As a not-for-profit charity organisation, the kindness and support of our beautiful community is how we can turn puppies into Assistance Dogs! We don't receive government funding for dog training, so we rely on generous people like you to turn puppies into Assistance Dogs.
Hosting your own fundraiser is one of the best ways to raise donations and make a positive impact. This is also a great activity that can involve everyone from kids to colleagues.
We believe the word fun is in fundraising for a reason, and anytime is perfect to raise funds! Discover some of our favourite fundraising tips and ideas below to help inspire your own fundraising efforts:
Planning a Fundraiser
Fundraising ideas can be as big or small as you like; often the best ideas are the simple ones!
To start fundraising we recommend:
1. Make a Plan: Once you choose your fundraising activity, decide when and how you want to fundraise (over a day, week or even month). Ask if your friends/family want to get involved and join your efforts!
2. Set a Goal: Set an ambitious, yet achievable target for your efforts!
Pick a way to fundraise; for example, via gofundme, a Facebook fundraiser or donating directly through the Assistance Dogs Australia online donation form.
3. Spread the Word: Let the important people in your life know when your fundraising begins and ends and why you are doing it.
You can share a fundraising post with a link to your social media too, and when your event starts, tag Assistance Dogs Australia on Facebook, Instagram or Twitter – we love to see your fundraising!
4. Give Thanks! During and at the end of your fundraising, remember to thank the important people who helped and/or donated to the cause! Announce how much you raised and celebrate this fantastic achievement.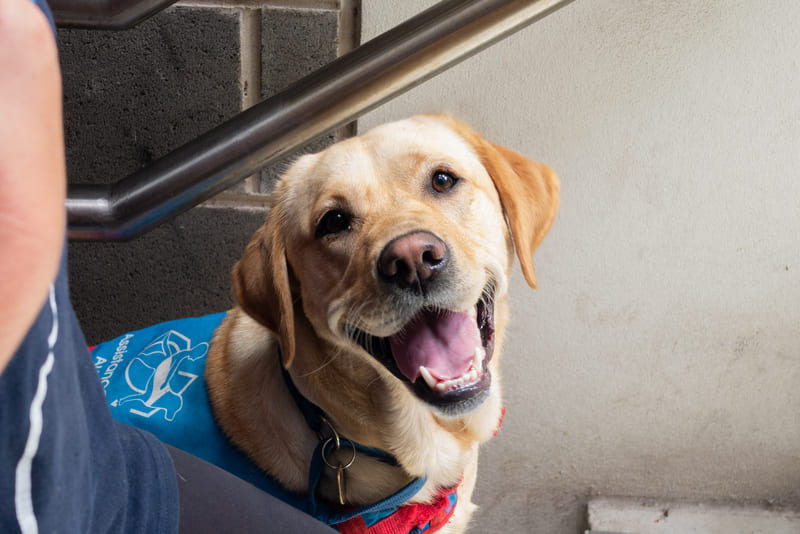 Fundraising Ideas to Get You Started
Host a Trivia Event: Bonus idea: make animal facts the theme.
Guessing Games: Such as how many animal candies or "dog hairs" (we use cut strips of grey wool for this idea) are in a jar.
Move It: You can pledge to run a certain distance, complete a certain number of push-ups: From running a certain amount of kilometres during your fundraising period to completing a certain number of push-ups or doing a little dance every day for a week…you can raise donations by being active and sharing your challenge updates with your fundraising community!
Quit the Habit: Have a habit you want to cut back on? Challenge yourself to taking a break from sugar, coffee, alcohol, or something else!
Other Fundraising Ideas
There are so many reasons and ways to fundraise! You can fundraise at school or at work.
If you are looking for a date to fundraise on, may we suggest any day in the month of October, which we have renamed Dogtober for the occasion? Otherwise, here is a list of significant dates you can tie in your fundraising to.
And speaking of special occasions, have you thought about fundraising on a birthday, or in celebration of any other milestone?
Fundraising for a Great Cause
Did you know it costs up to $60,000 to train one Assistance Dog who is placed free of charge with a client?
Donations from our community go towards essential resources required to train and care for Assistance Dogs, so we can give them to people living with disability. This includes individuals with physical disabilities, autism or post-traumatic stress.
Fundraising ideas are only limited by your creativity and imagination. Thank you for playing such an important role and good luck for your fundraiser – we know it will be fantastic!
If you need more help, please email us or call 1800 688 384 and ask to speak to our Fundraising team.
Throughout the month of October, we encourage the community to organise fundraising events to help Assistance Dogs Australia train highly-intelligent, specially bred...